---

NewsFactor Sci::Tech
Tech Innovation & Discovery
---
Scientists Examine IT's 'Human Factor'
- RESEARCH
By Mike Martin
NewsFactor Network
April 30, 2003
http://science.newsfactor.com/perl/story/21403.html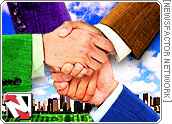 National security issues are driving the focus of the MKIDS program: highly dynamic situations in which organizations must be optimized to maintain stability in the midst of potential chaos.

The most critical networks in any organization are not the technologies that carry Internet traffic, researchers claim, but the social networks among persons and groups who use the technology -- and define an organization's knowledge flow in the process.

Estimating the size, shape and weaknesses of those social networks to help managers predict how an organization may respond to anticipated and unanticipated change is Carnegie Mellon University professor Kathleen Carley's goal.

"One of the things we are exploring is the use of computer-based simulation tools to forecast the behavior of complex socio-technical systems," Carley told NewsFactor. || ||


---
Please note that this material is copyright protected. It is illegal to display or reproduce this article without permission for any commercial purpose, including use as marketing or public relations literature. To obtain reprints of this article for authorized use, please call a sales representative at +1 (818) 528-1100 or visit http://www.newsfactor.com/about/reprints.shtml.
---
MKIDStuff
Carley is one of eight researchers working under the auspices of the National Science Foundation's US$4 million Management of Knowledge-Intensive Dynamic Systems (MKIDS) program.
Another MKIDS grantee, Stanford University medical informatics professor Raymond Levitt, seeks to fine-tune workplace social networks to create -- from the ground up -- organizations without weaknesses.
"MKIDS is 'messy,' but also more realistic for many kinds of modern and highly diverse organizations," Levitt told NewsFactor.
National security issues are driving the focus of the MKIDS program: highly dynamic situations in which organizations must be optimized to maintain stability in the midst of potential chaos.
MKIDS researchers want to know how information technologies can help streamline processes for organizations that must respond rapidly to incoming knowledge, dynamic situations and uncertainty.
Such organizations include news media, multinational research corporations, global finance institutions and the intelligence community.
"The MKIDS research introduces social science into a mix of management science and computer science," Levitt told NewsFactor. "It attempts to describe the behavior of participants working together with each other and with IT applications."
Cultural Impact
Carley's team feeds an organization's IT data -- e-mail exchanges, phone calls and human-resources databases, for instance -- into computational models that extrapolate an organization's internal structure and alert managers to likely organizational "failure points."
Levitt and Stanford colleague Stephen Barley, on the other hand, are developing tools to design optimal organizational structures for complex, multinational projects.
"Our MKIDS-funded research will attempt to model how team participants from different national cultures -- who have radically different core values, cultural norms of behavior and work practices -- interact on global projects," Levitt told NewsFactor.
Levitt's models will help create "systems that monitor and respond to events taking place throughout an organization's managerial levels and geographical locations," added NSF program director Suzanne Iacono. "To achieve concerted performance, independent software 'agents' have to figure out how to work together and with human decision makers in the most effective way possible," she said.
Minding Data Mining
The systems envisioned by the MKIDS program go beyond today's leading-edge "data mining" systems, which attempt to monitor vast streams of data and pinpoint events of interest.
Such data mining and other IT systems often are "developed with inadequate user input -- and with no ability for their designers to simulate the workloads that will be imposed on both users and their managers by the new IT-enabled work processes," Levitt explained.
"Many IT systems thus generate new inefficiencies and problems while attempting to solve old ones," he added. "New IT systems and work processes can simultaneously destroy old social networks that served valuable purposes, while they begin to activate new ones."

---
© Copyright 1998-2003 All rights reserved.
© Copyright 1998-2003 NewsFactor Network. All rights reserved.
This material may not be published, broadcast, rewritten or redistributed in any form without written permission. Please click here for legal restrictions and terms of use applicable to this site.<!br> Use of this site signifies your agreement to the terms of use. If you would like to reprint content from the NewsFactor Network, click here for pricing information. Privacy Policy.
---